TARUN TAHILIANI | PTBI
RENOWNED FOR HIS AESTHETIC OF INSPIRED REINVENTION, TARUN TAHILIANI HELMS THE FIRSTSERIES OF THIS CAMPAIGN WITH HIS QUINTESSENTIAL AESTHETIC OF UNDERSTATED OPULENCE. THE THREE COLLECTIONS THAT SPAN HIS SERIES REFLECT THE DISTINCT NUANCES OF LUCKNAVI CHIKANKARI, INDIAN MINIATURE PAINTINGS AND HIS ORIGINAL ABSTRACT ART. EACH CREATION UNRAVELLING A HAND-WOVEN WORK THAT PAYS TRIBUTE TO INDIGENOUS INDIA, AS IT TELLS ITS OWN STORY.
01
CHIKANKARI
03
INDIA PROUD
The starting point on my mood-board, the colours and
techniques, are always totally Indian. There is no other way to describe this.
The design process
Inspiration
Depicting the beauty of a diverse and authentic India in every design, this collection draws its inspiration from all the marvellous elements of Chikankari, Antique frames, and abstract art.
Painting it out
The designer collection incorporates Paisley and floral designs found in Lucknawi chikankari, complex borders that are reminiscent of antique frames, and freehand abstract forms.
In the flesh
Traditional motifs have been deconstructed, distressed, and overlaid with antique washes in embroidery. The carpets wonderfully exhibit the meticulous needlework that captivates anyone at first glance.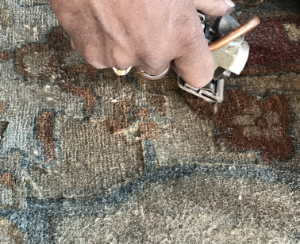 What's in a home
The collection, designed for sumptuous homes, offers a striking blend of brilliant tones combined elegantly with intricate designs crafted by the designer's incredibly creative mind, and extraordinary knotting abilities of the Obeetee artisans.